Deposit Bonus: 100% Deposit Match up to $200 + FREEROLLS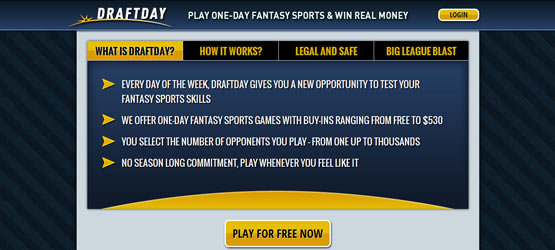 Review of DraftDay.com Real Money Fantasy Football!
While we play fantasy football at Fanduel, Draft Day is a viable alternative for those of you who want to give the smaller and newer sites a try. With the NFL season quickly approaching, we all know how incredibly popular fantasy football has gotten in recent years. With that being said, it's important to know all of the different options that you have for fantasy football. While you always have the options to do standard 10 and 12 team leagues through popular online fantasy sites, there is a brand new type of fantasy football game that has come along in weekly fantasy football. One of the best options to play these games is a new site called DraftDay, who will be entering their full football season in business, with 100% legal fantasy football games that you can do weekly! We are going to give an in-depth look at DraftDay and explain exactly how they work and what types of things will be offered to you.
Signing Up
First off, when you go onto the site the sign up process is incredibly easy and straight forward. All that you have to do is click sign-up, create an account, and then you will be on your way. If you sign up without using Facebook you will have the opportunity to earn a deposit bonus by using the promo code FREAK! From that point you have the option to either play one of the free games that are offered on the site (more on this below), or make your first deposit and take advantage of the deposit bonuses that DraftDay offers to all of their players. When you sign-up you'll want to make sure to attach an email address to your account that you use often, as they will send you emails daily and weekly for lineups that you may have forgotten to fill in!
Sign-Up Bonuses
When you first create your new account at DraftDay, they do a few different things in terms of bonuses. For starters, if you deposit $25, you'll get a $5 bonus, if you deposit $50 you will get a $10 bonus, and if you deposit $150 you'll get a $30 bonus. The minimum deposit on the site is $10, and if you make the min deposit you'll still receive a $2 bonus.
The bonuses are released over time, but are a great way for new players to be able to get some free money entered into their bonus account, and you can get in on the big game action right off the bat as well!
Trust & Reputation
Even though DraftDay is one of the newer daily fantasy football sites out there, they have quickly earned a ton of trust from players. A key reason for this is due to the fact that they are created by the some people who made CardRunners, which is an incredibly popular online poker strategy website. They are incredibly fast with payouts meaning that anytime that you bring home a win and want to cash out, you'll find that money can be in your PayPal within a day, or a check can be mailed to you as soon as you request it also!
Scoring System
The scoring on DraftDay is pretty straight forward, and it runs pretty similar to a standard fantasy football league. If you are a fan of a site like Yahoo or ESPN's fantasy scoring then you'll definitely enjoy DraftDay's. If you have any questions about the scoring system's that are offered by DraftDay you can head to their FAQ section, and if you can't find the answer that you're looking for there, then it will definitely be listed on the specific game that you are looking to play in as well.
Game Selection
The games at DraftDay vary anywhere from freerolls that you do not have to pay anything to enter into, all the way up to games that cost in the hundreds to play heads up. They also run many different special games with guaranteed prize pools as well. Learn more about real money fantasy football here.Regardless of if you like to grind it out at the lower stakes and play $1 or $5 games, or simply go to the high stakes and look for the big score, they will have you covered. DraftDay also features different types of games where the top percentage of players will get paid out, and also where players can split the prize pool if they score a specific number of points or higher. You can also play with a large number of players if you'd like to, or stick to playing head to head games as well!
Draft Process
When choosing your fantasy football team each week for your lineup, you not only have the full list of players in front of you at every position in order by their cost, but you can also look at their stats and fantasy points as well. Many people forget to check out the fantasy points that players score, but this can be a great way to determine whether or not to use a player! It's very easy to draft your team, and you'll see that the amount of money that you have left (or how far over the salary cap that you are) is listed on the same screen as the draft is.
Player News
If you are on the draft page and are looking at fantasy points for players, you will also see that they feature the option for you to be able to see any updated news on a specific player. For example, if a player has been injured for the past few weeks and you aren't sure of their status, just check out the up-to-date news to see if there have been any updates on
them.
Fees and Juice
DraftDay definitely doesn't look to "rob" players by any means. They do take a cut in order to make profits from the site though, and you'll find that for example, if you buy-in to a tournament that has 100 players, and half double their money, you will only be paid up to spot 44 or 46, and the rest of the profit will go to the site itself. This is just like in sports betting where there is juice on a bet, that goes directly to the site in order to keep them up and running.
Heading to DraftDay.com now will get you started on your sign up process to win real money with fantasy football! Using the promo code FREAK will get you a deposit bonus you won't want to miss!!